Dr. Corns and her team do their best to make your child feel relaxed and at ease, but sometimes, a child may feel anxious before or during treatment. There are a few options Dr. Corns may suggest that are available if it appears cooperation or safety is an issue. Children who benefit from sedation dentistry may have:
A fear or anxiety of being at the dentist

A short attention span

Extensive dental work that needs to be completed

Special healthcare conditions that may challenge dental care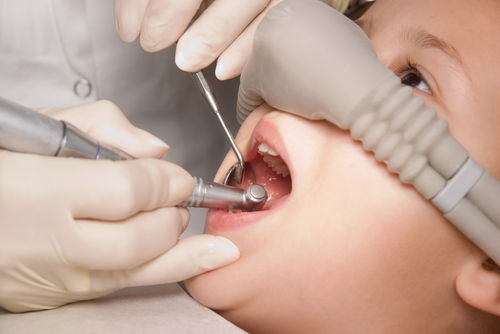 Nitrous Oxide
sedationNitrous Oxide, or better known as laughing gas, is a mild form of sedation for children who visit the pediatric dentist and may be overly nervous or anxious about their scheduled treatments. Nitrous Oxide helps to ease patient's fears so as to help them relax during their visit, and to receive dental treatment in a comfortable and safe manner.
Nitrous oxide blends two gases, oxygen and nitrous oxide, and is administered by a fitted mask placed over your child's nose. Your child then breathes normally, they become very relaxed in a matter of minutes and once Nitrous is stopped your child will be given oxygen for 3 to 5 minutes. There are no lingering effects. While inhaling nitrous oxide/oxygen, your child remains fully conscious. Additionally, nitrous oxide reduces the gag reflex which can interfere with effective dental treatment.
Nitrous oxide may produce a feeling of giddiness or euphoria, it is often called "laughing gas". Children sometimes report dreaming and their arms and legs may feel "tingly". It raises the pain threshold and may even make the time appear to pass quickly. If your child is worried by the sights, sounds, or sensations of dental treatment, he or she may respond more positively with the use of Nitrous Oxide.
Nitrous Oxide is perhaps the safest sedative in dentistry. It is well tolerated, having a rapid onset, and is reversible, can be adjusted in various concentrations and is non-allergenic. Your child remains fully conscious and keeps all natural reflexes when breathing the gases. He or she will be capable of responding to a question or request. You should inform our office regarding any respiratory condition that makes breathing through the nose difficult for your child.
Children are of course not all alike all of our dental services are tailored specifically to your child. In a very small percentage of children nitrous oxide may not be effective, especially with children who have severe anxiety, nasal congestion or discomfort wearing a nasal mask. We will review your child's medical history, level of anxiety, and treatment needs and inform you if nitrous oxide is recommended for your child. If your child is opposed to wearing a mask, or if you child has a stuffy nose during the day of the visit, then nitrous oxide may not be the best option for sedation.
General Anesthesia
The vast majority of children in our practice can be managed very well by Dr. Corns and our team. However, some children present unique treatment challenges that require a different approach. Children with acute anxiety, extensive treatment needs, pre-cooperative behavior, or special health care needs are often candidates for treatment under general anesthesia.
It is important to understand we do not recommend general anesthesia without serious consideration. We want to provide the best possible care in the safest possible manner for our patients. We feel it is our responsibility to discuss this option when relevant. If general anesthesia is an option for your child, we will review the risks, benefits and treatment alternatives with you in detail. While the assumed risks are greater than that of other treatment options, if this is suggested for your child, the benefits of treatment this way have been deemed to outweigh the risks. The inherent risks if this is not chosen are multiple appointments, potential for physical restraint to complete treatment and possible emotional and/or physical injury to your child in order to complete their dental treatment. The risks of NO treatment includes: tooth pain, infection, swelling, the spread of new decay, damage to their developing adult teeth and possible life threatening hospitalization from a dental infection.
We provide general anesthesia services in our office which is administered by board-certified anesthesiologist Dr. Zak Messieha. Dr. Messieha has been practicing anesthesia for over twenty years. He has served on the anesthesia residency teaching staff in Chicago. He has published numerous studies on general anesthesia and is a much sought-after lecturer around the world. As his long-standing commitment to highest quality in patient care, Dr. Zak Messieha had the first office-based anesthesia practice in the United States to be accredited by the Accreditation Association for Ambulatory Health Care (AAAHC). His patient-centered approach has been well-received by not only the children we have treated, but their parents as well.